Even if you're just getting a routine checkup, dealing with health issues can be scary. Oklahoma is home to thousands of physicians who focus on a wide variety of specialties, and decisions on your health or the health of your loved ones are some of the most important choices you may make.
Oklahoma Magazine is here to help with these decisions by being the state's exclusive home to Top Doctors in 2017, a list of medical professionals who are recognized as highly trained, skilled, compassionate and dedicated to their patients' welfare.
Oklahoma Magazine would like to congratulate the doctors chosen for this honor. The following health care professionals were chosen by their peers through an extensive survey process conducted by Castle Connolly, and we encourage our readers to use this list to assist in making informed health care decisions. 
Douglas Drevets, M.D.
Infectious diseases
OU medical center
Dr. Douglas Drevets, professor and chief of infectious diseases at OU Medical Center, has a busy schedule. Besides seeing patients, he is also working on several research projects. These projects include studying brain infection and inflammation caused by Listeria monocytogenes, a food-borne bacterium, a study in south India where he is part of a team looking for new ways to diagnose tapeworm infection in the brain and a project centered in the Cherokee Nation seeking to eliminate Hepatitis C.
He sees a wide variety of of inpatients at OU Medical Center and Veterans Hospital, where he works closely with other physicians, providing assistance with any infectious disease cases.
In contrast, his outpatient time is mostly spent with patients with HIV/AIDS. The outpatient team is largely funded through the federal government and also partners with the Oklahoma State Health Department and local AIDS service organizations.
Drevets says it has been very rewarding to see the improvement in care for HIV/AIDS patients. He adds he hopes to see the same improvement in treatment of patients with Hepatitis C.
Drevets is quick to point out that his accomplishments could not have been achieved without the strong clinical and research teams he works with daily.
"I'm part of really good teams, and they make me better," he says. "We strive to make each other better." 
Joan Walker, M.D.
Gynecologic oncology
Stephenson Cancer center
Dr. Joan Walker, committed to preventing and eradicating cancer, is board certified in obstetrics and gynecology, gynecologic oncology, and palliative care medicine. She also holds the Louise and Clay Bennett Chair in Cancer and is a George Lynn Cross Research Professor, a prestigious faculty award, and has published more than 200 articles in peer-reviewed journals, given nearly 300 presentations and contributed material to 16 different medical textbooks for chapters on gynecologic oncology.
As part of her work, Walker coordinates research and enrolls gynecologic cancer patients in clinical trials to learn more about what causes these cancers.
"The treatment of cancer and all of our clinical trials is very rewarding," she says. "But, I'm realizing there's a tremendous amount of work that needs to be done in the prevention of cancer. I've always said I want to put myself out of business."
Stephenson is in the process of becoming a designated cancer center by the National Cancer Institute.
"We are very enthusiastic that we will become an M.D. Anderson-like organization by next year," Walker says. "Along with a grant comes a lot of responsibility because the funding will also be for the improvement of our community. The application includes population health, cancer risk reduction, screenings as well as taking care of people who develop cancer." – Rebecca Fast
Timothy Holder, M.D.
Hospice and Palliative Care
Cancer Treatment Centers of America
A family medicine physician for nearly 30 years, Timothy Holder focuses on improving the lives of cancer patients.
"In medical school, I realized I enjoyed multiple fields of medicine," he says. "By choosing family medicine, I have been able to practice a wide spectrum of medicine, delivering care to my patients, from neonates to [those] nursing home-aged. Since 2013, I have specialized in palliative medicine, providing symptom control and management for patients with a cancer diagnosis, in addition to providing general medical care."
With a desire to help those in need, Holder has taken several overseas medical mission trips and helped establish the Good Shepherd Clinic in Muskogee, a free medical clinic for those without insurance.
He is also involved in the accreditation of continuing education for physicians. He serves as chair of the Accreditation Review Committee for both the Oklahoma State Medical Association and the national Accreditation Council for Continuing Medical Education.
In addition, Holder has served as chairman of the national Education and Training Strategic Coordinating Council for the American Academy of Hospice and Palliative Medicine, along with serving many years as medical director for hospices in Texas and Oklahoma. – Rebecca Fast
See our interview with Dr. Douglas Beall of Oklahoma City
Chitralekha Kathuria, M.D.
Family Medicine
St. John Clinic
Dr. Chitralekha Kathuria, who practices the full spectrum of family medicine with a special focus on women's health, is passionate about personalized health care and its impact on the community.
"As a family physician, I have the ability to influence the health of individuals, families and the entire community," she says. "At the same time, I find it challenging and rewarding to care for an individual as a whole person besides providing preventive health care, diagnosing and treating both acute and chronic conditions and supporting people as they reach their personal health goals."
St. John Clinic is involved in the Comprehensive Primary Care Initiative, a national effort to strengthen primary care and improve patient satisfaction.
"The development of patient-focused initiatives and advancements in telemedicine are making significant changes in the delivery of health care," Kathuria says. "We are also spending more time addressing the determinants of health. These improvements help patients be more involved in their own care and … this type of team approach fosters more positive outcomes.
"In family practice, we make a positive difference in the lives of patients every day. [Since I am] a strong advocate of preventive care, preventing disease before it happens gives me my greatest sense of accomplishment." – Rebecca Fast
Christopher Lentz, M.D.
Surgery
Integris Paul Silverstein Burn Center
Dr. Christopher Lentz is not tempted to punt a medical career in the military for a civilian practice. He has a boot and shoe in each world.
The Air Force brigadier general and medical director of the Silverstein Burn Center sees his dual roles not as overlaps or competitors, but complements.
"Military health is great, but it's a closed system," Lentz says, "so I can bring new information to the military from the private sector. Meanwhile [for INTEGRIS], I'm trained to treat burn casualities in war, and that helps the burn center."
Commissioned in 1983, Lentz works 8-12 weeks a year for the Pentagon's assistant surgeon general for health-care operations. When Silverstein recruited Lentz from the University of New Mexico's Department of Surgery in 2013 to build a world-class burn center, the two agreed that Lentz's military work would continue. After all, both were trained by renowned Army burn surgeon H.D. Peterson.
"INTEGRIS didn't have a pediatric burn program, and I was given the opportunity to start that," Lentz says. "Before then, pediatric burn patients in Oklahoma had to go out of state, either to Dallas or Little Rock, to get treatment. Now they can come here and that's been rewarding."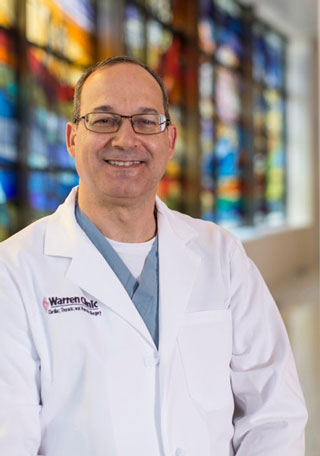 Frank E. Schmidt Jr., M.D.
Cardiothoracic and vascular surgeon
Warren Clinic
As a cardiothoracic and vascular surgeon operating on patients' chests, heart and lungs, Dr. Frank E. Schmidt Jr. feels great accomplishment in his ability to alter his patients' lives for the better.
"As in any part of medicine, you have the opportunity to care for people," he says. "However, I find cardiovascular and thoracic surgery to have an especially deep impact in helping people. Cardiovascular and thoracic surgery is one of the most rigorous and demanding fields of medicine, but it can immediately and profoundly improve patient lives."
Schmidt also believes people don't understand the staggering amount of work that goes into his day job, both pre- and post-op..
"People are surprised to know what and how what we do what we do, and how comprehensive our care immediately before and after surgery is," he says. "I find myself explaining my job a lot, not only to patients but also to new acquaintances."
The continued evolution of technology and science has helped make Schmidt's life, and the life of his patients, far easier.
"All medicine, particularly cardiovascular surgery, has been affected by the advancements in technology," he says. "We have seen many positive changes and look forward to many more." – Mary Willa Allen
Yogesh Mittal, M.D.
Orthopedic surgery
The Orthopaedic center/CORE
There are many things Dr. Yogesh Mittal enjoys about orthopedic surgery, but one of the most fulfilling aspects of his job is the ability to get immediate results when helping people.
"One of the most rewarding aspects is when patients have limited mobility or a lot of pain, they come to the office and you fix them," he says. "You change their lives; they're happy, they're back to work. I love it when my patients hug me because they're so happy that we've actually made a substantial difference in their lives."
Mittal was drawn to orthopedic surgery because he enjoys working with his hands and using his hand-eye coordination. He has been practicing at The Orthopaedic Center since finishing his fellowship training at OrthoCarolina in Charlotte, North Carolina.
Watch our interview with Yogesh Mittal M.D.
Since then, he says he's proud of the practice he has been able to build based on hard work and putting patients first.
"I think that's what I'm most proud of – that patients want to come to me because they know that I'm there for them and I'm going to do my very best for them every time."
Mittal keeps up with the latest technological advancements in surgery, noting that since he has started practicing, the improvements have been major.
"Orthopedics is amazing because I think we've just scratched the surface," he says.
Comments